20 Resurgens Physicians Recognized as Top Doctors on Castle Connolly List


Twenty physicians from Atlanta-based Resurgens Orthopaedics were named Top Doctors in their field for 2020 by Castle Connolly healthcare research company. Resurgens Orthopaedics has the highest number of top doctors of any orthopaedic practice in Georgia and this year's number is the most doctors ever honored at Resurgens Orthopaedics.
Castle Connolly 's physician-led team of researchers select the Top Doctors annually through a process that starts with peer nominations followed by a rigorous screening process that includes an evaluation of educational and professional experience.
"We are gratified to be recognized by our medical peers who determine the recipients of the Castle Connolly honor" said Dr. Raj Bhole, Resurgens Orthopaedics Chairman of the Board."The record number of our physicians who received recognition in 2020 is a testament to the innovation, skill and dedication to exceptional patient care demonstrated by these doctors and everyone on our staff.These factors have made Resurgens Orthopaedics one of the most trusted names in the Atlanta area and in the orthopaedic field and we work hard every day to earn that trust."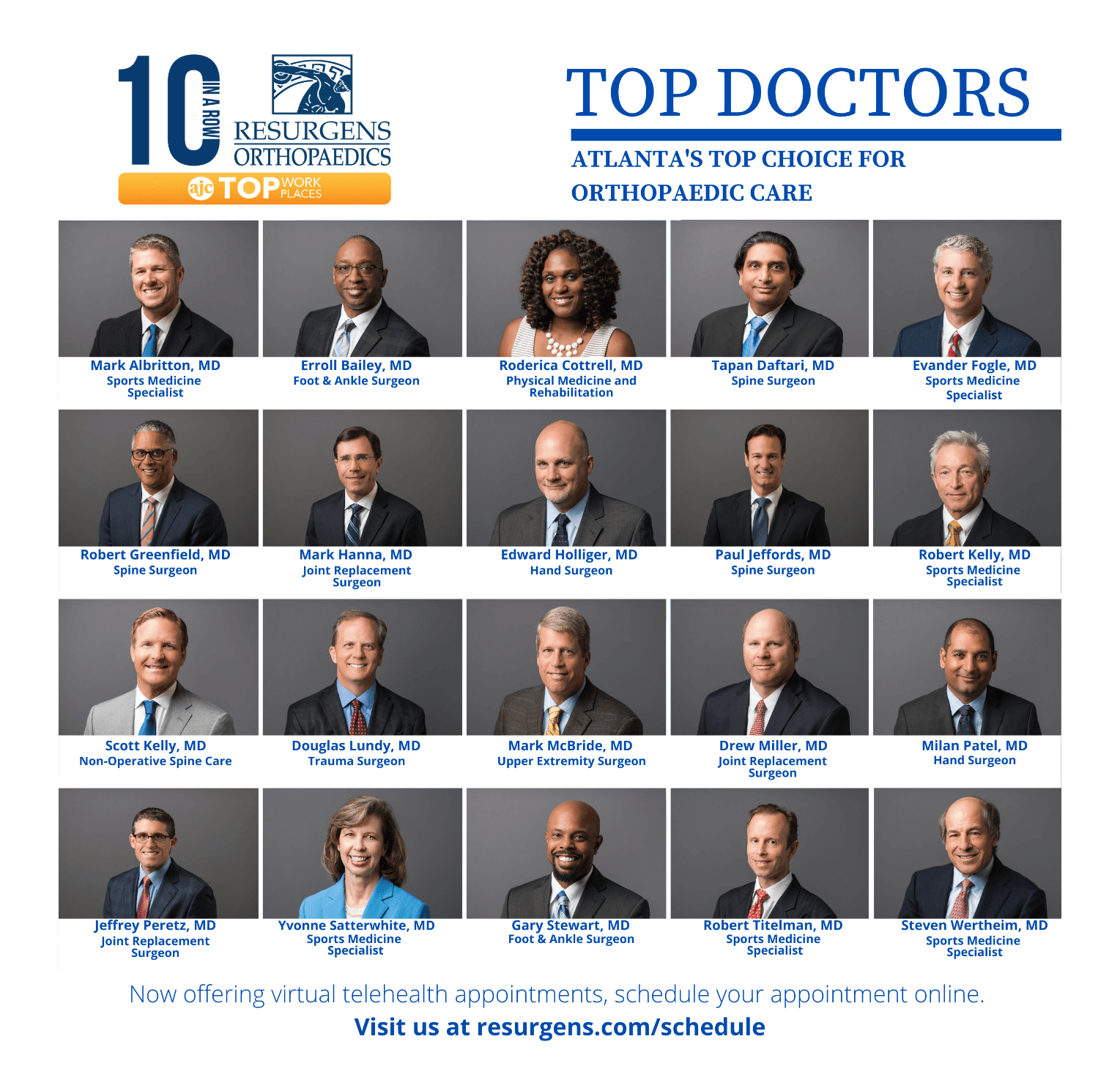 Resurgens Orthopaedics physicians named to the Top Doctors list include:
Dr. Mark J. Albritton
Specialty: Orthopaedic Surgery
Practice cities: Fayetteville, Newnan and Griffin
Dr. Erroll J. Bailey
Specialty: Orthopaedic Surgery
Practice cities: Midtown and St. Joseph's/Sandy Springs
Dr. Roderica E. Cottrell
Specialty: Physical Medicine and Rehabilitation
Practice city: Covington
Dr. Tapan K. Daftari
Specialty: Orthopaedic Surgery
Practice cities: Kennesaw, Vinings, Acworth, Austell
Dr. Evander F. Fogle
Specialty: Orthopaedic Surgery
Practice city: St. Joseph's/Sandy Springs
Dr. Robert T. Greenfield
Specialty: Orthopaedic Surgery
Practice cities: Midtown and Covington

Dr. Mark W. Hanna
Specialty: Orthopaedic Surgery
Practice city: St. Joseph's/Sandy Springs

Dr. Edward H. Holliger
Specialty: Hand Surgery
Practice cities: Roswell and Cumming

Dr. Paul Jeffords
Specialty: Orthopaedic Surgery
Practice city:St. Joseph's/Sandy Springs

Dr. Robert A. Kelly
Specialty: Orthopaedic Surgery
Practice cities: Kennesaw and Woodstock

Dr. Scott A. Kelly
Specialty: Physical Medicine and Rehabilitation
Practice cities: Griffin and Morrow
Dr. Douglas W. Lundy
Specialty: Orthopaedic Surgery
Practice city: Marietta
Dr. Mark S. McBride
Specialty: Hand Surgery
Practice cities: St. Joseph's/Sandy Springs, Roswell
Dr. Drew V. Miller
Specialty: Orthopaedic Surgery
Practice city: St. Joseph's/ Sandy Springs
Dr. Milan Patel
Specialty: Hand Surgery
Practice city: Lawrenceville

Dr. Jeffrey I. Peretz
Specialty: Orthopaedic Surgery
Practice cities: St. Joseph's/Sandy Springs, Windy Hill
Dr. Yvonne E. Satterwhite
Specialty: Orthopaedic Surgery
Practice city: John's Creek

Dr. Gary W. Stewart
Specialty: Orthopaedic Surgery
Practice cities: Fayetteville,Griffin, McDonough, Morrow
Dr. Robert M. Titelman
Specialty: Orthopaedic Surgery
Practice city: St. Joseph's/Sandy Springs
Dr. Steven B. Wertheim
Specialty:Sports Medicine
Practice cities: St. Joseph's and Windy Hill

About Resurgens Orthopaedics
Resurgens Orthopaedics, one of the nation's largest orthopaedic practices, has 24 offices throughout metro Atlanta, serving the residents of Georgia, the Southeast and beyond. Resurgens Orthopaedics provides comprehensive operative and non-operative musculoskeletal care in a single practice, from injury diagnosis and treatment to rehabilitation and imaging services.With more than 100 physicians, Resurgens Orthopaedics provides specialized expertise and broad experience in the areas of sports medicine, joint replacement, neck and back surgery, foot and ankle surgery, shoulder and elbow surgery, non-operative spine care, hand surgery, arthroscopic surgery, epidural steroid injection, general orthopaedics and trauma care. (www.resurgens.com)
For a logo, please click HERE
###
Contact:
Jennifer Greene
Illuminate-Communications
Jennifer.greene205@gmail.com
770-361-2014