Robert M. Titelman, M.D.
Location
You can now schedule your appointment online for a time that suits you best. Just click the link below to begin the process.

Book Online Now
Areas Of Expertise
Shoulder & Elbow Surgery
General Orthopaedics
Arthroscopy and Sports Medicine
Fellowship
Shoulder & Elbow Surgery Fellowship 2002-2003
University of Washington; Seattle, Washington
Elbow Surgery; Mayo Clinic 1996 & 2003
Certifications
Board Certified, American Board of Orthopaedic Surgery
Carticel Cartilage Transplantation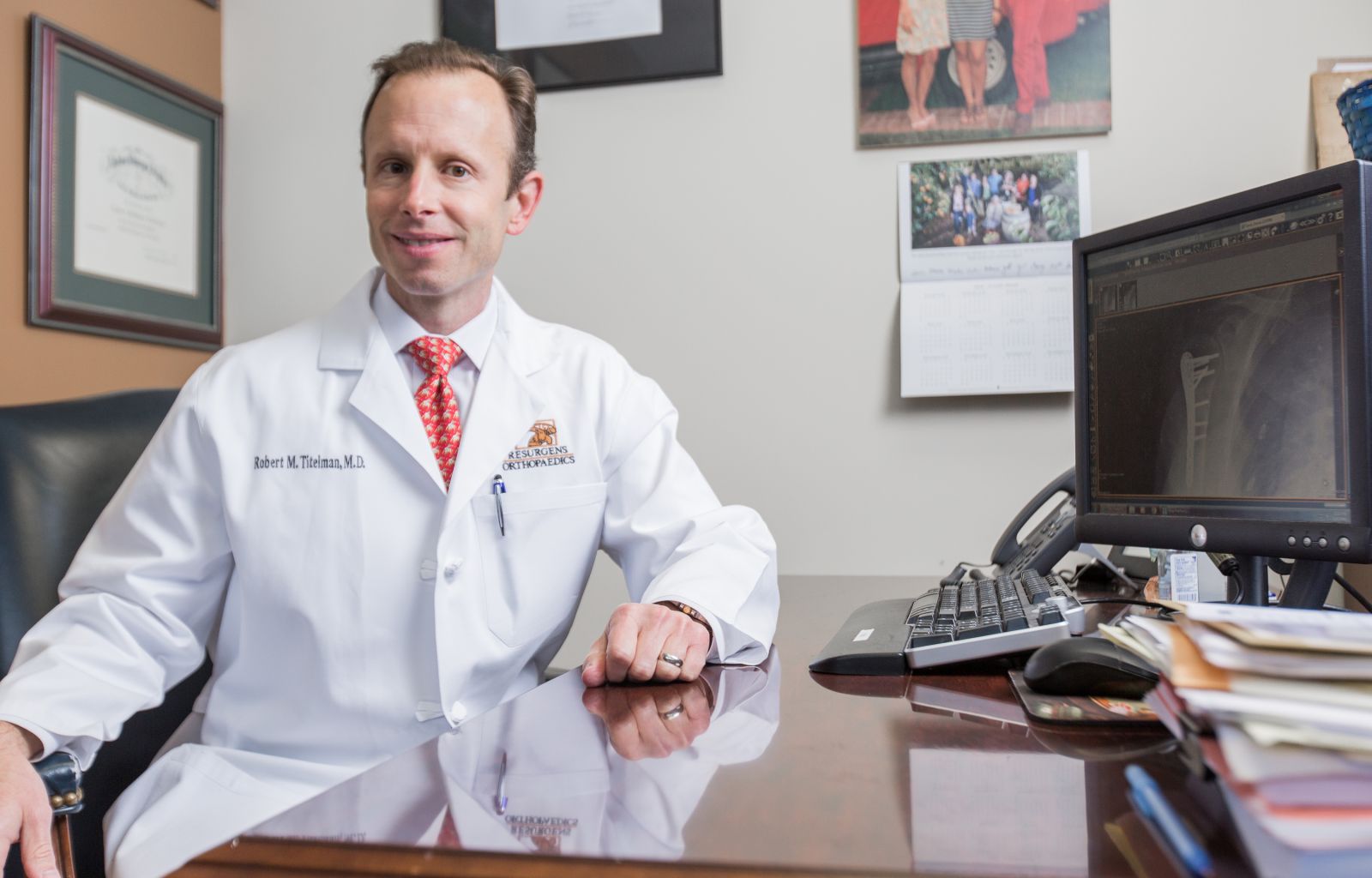 Residency
University of California at Davis; Sacramento, CA
Medical Degree
Medical College of Georgia; Augusta, Georgia
Associations
Alpha Omega Alpha Medical Honor Society
American Academy of Orthopaedic Surgeons
Southern Orthopaedic Association
Global Shoulder Society
Harryman Shoulder and Elbow Society
Lipscomb Orthopaedic Society
Hospital Affiliations
North Fulton Hospital
Northside Hospital
St. Joseph's Hospital
Major Accomplishments
2020 Top Doctors in Orthopaedic Surgery, Atlanta Magazine
Author of textbook chapters on Shoulder Replacement, Shoulder Instability/Dislocations, and Rotator Cuff
Associate Team Physician for Washington Huskies
Team Physician for U.S. Amateur Boxing Association
Team Physician for professional soccer, minor league baseball, and high school sporting events
Areas of Interest
Ulnar Collateral Ligament Reconstruction (Tommy John surgery)
Arthroscopic Shoulder and Elbow Surgery
Shoulder and Elbow Replacement
Additional References
Undergraduate Westminster School; Atlanta, Georgia
Resurgens Orthopaedics
Varied
Dr. Titelman did a great job on my elbow. Before surgery, I had two bone spurs pinching a nerve and grew tired of the aching and pain. After seeing two other orthopedic surgeons, who incorrectly misdiagnosed my issue, Dr. Titelman was able to tell me what was going on, explained all the possible ramifications if I chose to go along with the surgery, and suggested I wait until I was really ready, because "surgery is nothing anyone should rush into". Dr. Titelman is a talented and gifted doctor.
- Lee
Resurgens Orthopaedics
Varied
The entire experience was excellent. What I appreciated most was Dr. Titelman spending time showing me my xrays, helping me understand the fracture I had, and why it should heal fine given its location. The staff were also friendly and very efficient.
- Bob S.
Schedule an Appointment Now