Big cities all around the country are suffering from traffic congestion problems and they're willing to try anything to cut down on the number of cars on the road. In the past few years, e-scooter sharing apps have offered a solution in the form of electric scooters that can be rented for a few bucks and used for short trips around the city. It's been about a year since Atlanta welcomed some of these apps into our city, and while the jury's still out on whether or not they've cut down on our notorious traffic jams, it's true that city residents and visitors alike have already taken more than 100,000 trips on e-scooters. While these e-scooter trips may seem efficient, fun, and easy, they can often lead to accidents or injury for some riders.

"Scooter injuries have led to a substantial rise in orthopaedic injuries. People are often traveling at a high speed and try to stop without using correct techniques, resulting in significant knee, ankle, and wrist injuries in the process. Collisions between scooter users and nearby walkers and joggers is also a problem." Dr. Gary Stewart; Foot & Ankle Specialist
At Resurgens Orthopaedics, we believe it's important to be safe no matter how you travel, and e-scooters are no exception. If you plan on beating the traffic by taking one of Atlanta's new e-scooters for a spin, here are a few tips on how to stay safe and prevent injuries.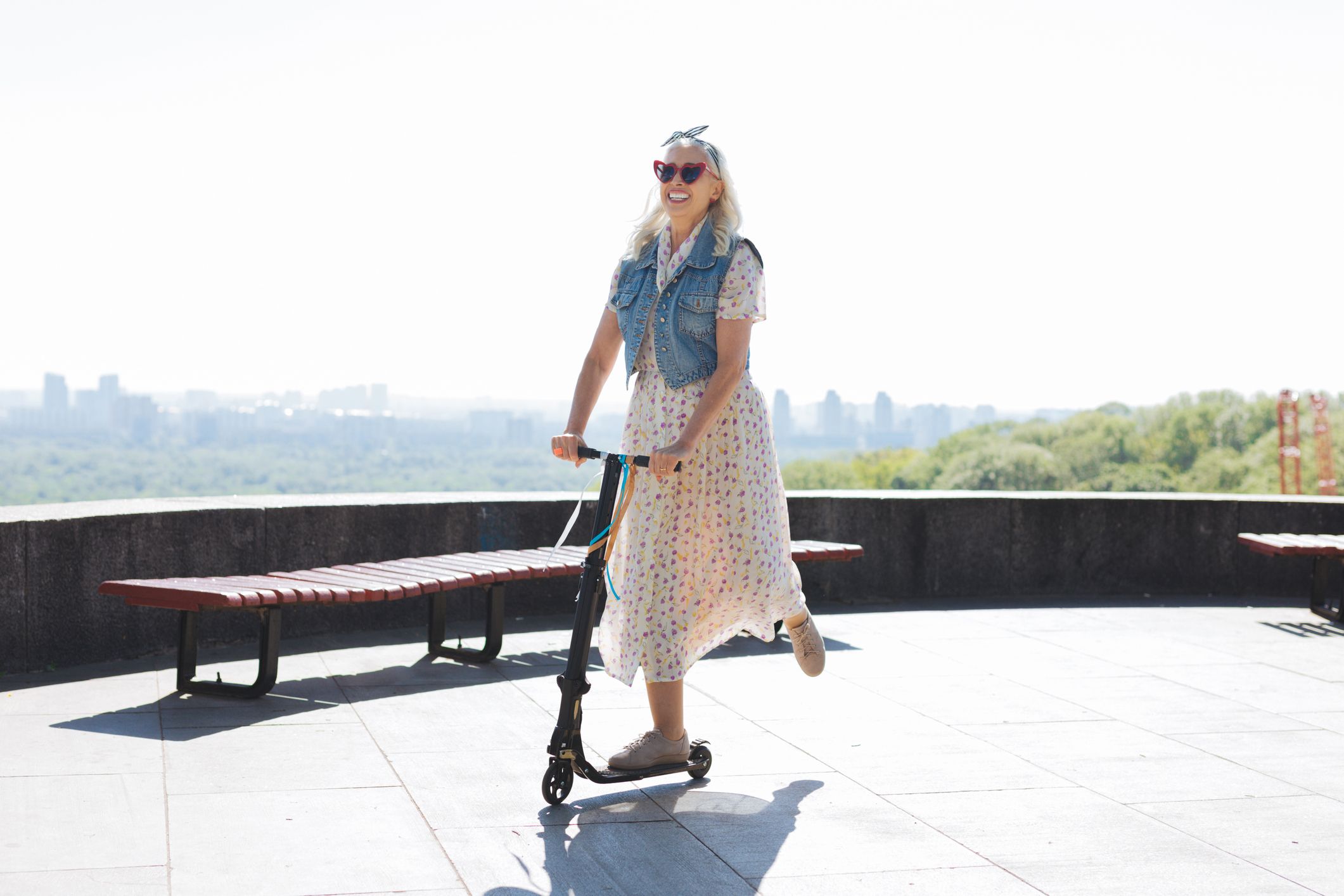 Always Wear a Helmet and Protective Pads
The Centers for Disease Control and Prevention (CDC) recently released a report about e-scooter injuries and their findings weren't encouraging. The report states that nearly half of all e-scooter injuries involved head trauma. The reason for this high rate of head injuries? Riders weren't wearing helmets. The CDC reported that less than 1% of riders were wearing a helmet when they crashed and were quick to note that wearing a helmet and other safety gear could prevent serious injuries like concussions, broken bones, severe bleeding or even organ damage.
Dr. Lattisha Bilbrew, Orthopaedic Surgeon, Hand and Upper Extremity Specialist agrees with this and offers the following tips: "To prevent injuries to the hand, wrist and elbow be sure to ride slowly and steadily. Always be alert of oncoming traffic and other pedestrians to avoid any e-scooter related collisions. Be sure to wear protective gear such as a helmet, wrist guards, elbow and knee pads, to avoid injuring yourself and other people as your travel throughout the city. Resurgens Orthopaedics is always here to take care of any e-scooter related accidents, but we prefer our patients take the necessary precautions to prevent injuries from occurring."
Stay Off the Road
At the present time, e-scooter riders aren't exactly sure where they should ride and the local government hasn't made much progress on regulations regarding electric scooters. As a result, some scooter fans ride on the sidewalk while others ride in the road. One Reddit user even posted a photo of an Atlanta resident scooting on the Downtown Connector! It should go without saying that taking your scooter on the highway with no helmet is a really bad idea, and side streets aren't much safer. Until local lawmakers can decide what to do with e-scooter riders, it's probably best to stay on the sidewalk and off the road.
Ride Carefully and Be Considerate
Of course, riding on the sidewalk can present its own dangers, especially in Downtown and Midtown Atlanta, where pedestrian traffic can be just as bad as the car traffic on I-75.
Dr. Jennifer Bruggers from the Resurgens Trauma Center, practices in our Midtown and Marietta locations and shares: "I see at least one fracture every day or two from an e-scooter injury. The most common fractures we see in the ER are tibia plateau and ankle and forearm fractures."

When you use a scooter-sharing app, remember to share the sidewalk with pedestrians. Ride slowly and steadily when pedestrians are nearby and stay alert for people coming out of doorways and alleyways who may not see you coming. Curb your cell phone while operating an e-scooter to help keep your eyes on the road. Be considerate and you can avoid injuring yourself and other people in an e-scooter accident.

So, any time you hop on an e-scooter, remember to take it just as seriously as you would when traveling by car or bike. Obey all traffic laws, be aware and considerate of others, and always wear proper safety gear.