The human foot and ankle is an intricate and complex anatomical structure consisting of 26 bones (25% of all bones in your body), 33 joints, more than 100 muscles, tendons and ligaments and a vast network of soft tissue, vessels and skin. These components work in perfect unison to provide strength, flexibility and balance for the human being to stand, walk or run. When there is pain, trauma or a malfunction to the foot and ankle, including plantar fasciitis, bunions, or a number of other conditions, your internal medicine or primary care family doctor may refer you to an orthopedic surgeon or a podiatrist. What are the differences? Which one is right for you?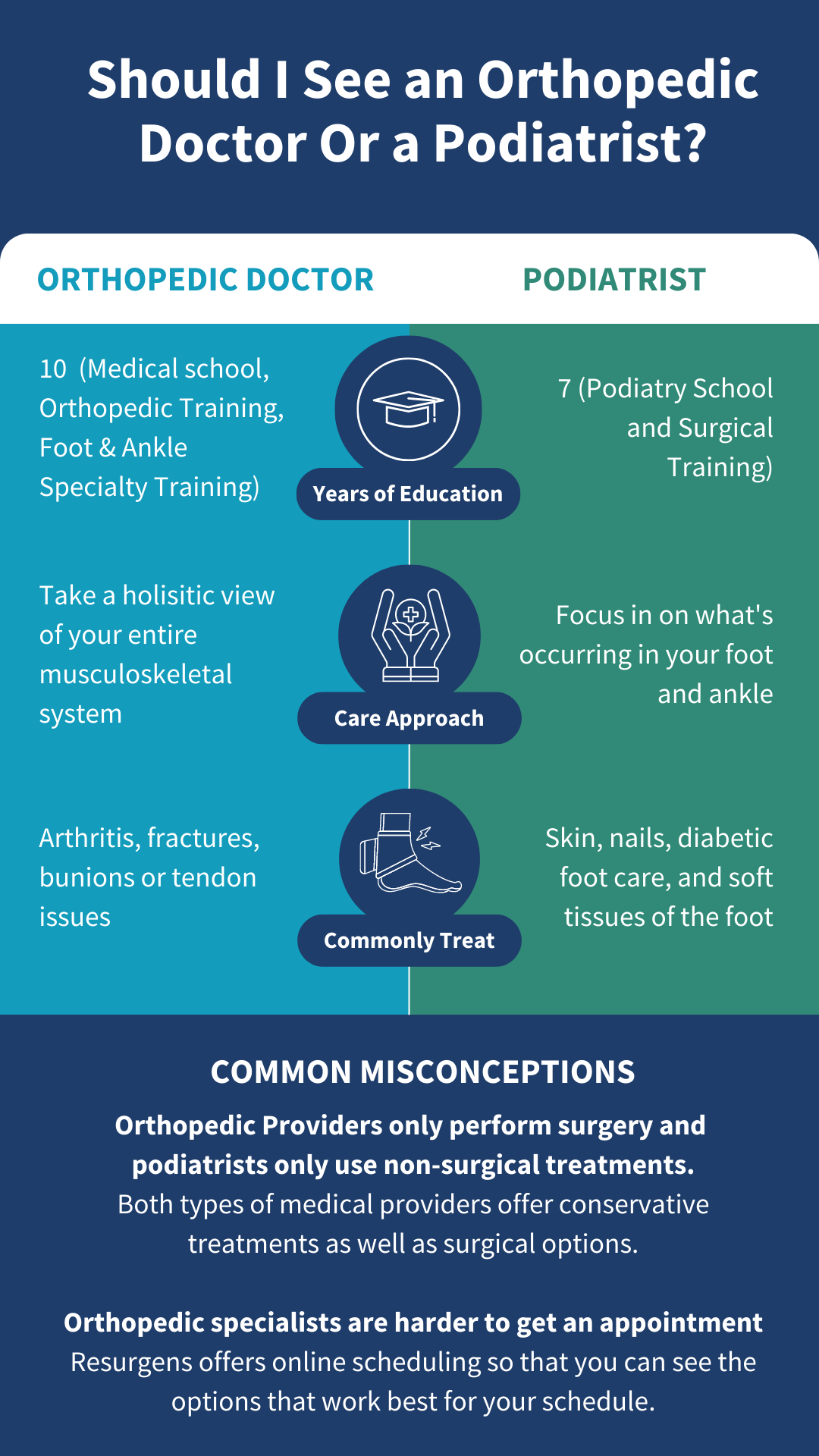 What is an Orthopaedic Surgeon?
An orthopedic surgeon is a Medical Doctor (MD) or DO (Doctor of Osteopathic Medicine) who has completed:
An undergraduate degree
4 years of an accredited medical school
5 years of an orthopedic surgery residency
1 additional year of a foot and ankle subspecialty fellowship training?
The orthopedic medical doctor must then become certified by the American Board of Orthopedic Surgery.
The orthopedic surgeon can deal with any bone or joint problem in the body from the neck down and can integrate all of general aspects of medicine learned in medical school with the orthopedic knowledge of the body. Therefore there is a greater understanding of the relationship of the entire body with the foot and ankle, enabling the orthopedic surgeon to treat more complex level of problems.
What is a Podiatrist?
A podiatrist is a Doctor of Podiatric Medicine who has completed:
An undergraduate degree
4 years of an accredited podiatric school that deals primarily with the foot only
3 years of a surgical residency, working alongside senior podiatrists or medical doctors
The podiatrist can then decide to be certified by a variety of Podiatric Boards, usually the American Board of Podiatric Surgery or the American Board of Podiatric Orthopedics and Primary Podiatric Medicine.
Should you see a Podiatrist or an Orthopedic Surgeon?
As you would with any major health care decision, research your doctor. There is some overlap between the conditions a podiatrist and an orthopedic surgeon would treat, so take some time to determine who is the best fit for you. If your problem is related to skin, nails, or soft tissue of your feet, and it is a straightforward diagnosis, podiatrists are a great place to start. They frequently treat these issues and are well equipped to take care of you. Both types of doctors can treat conditions such as arthritis, a fracture, or bunions, but if the injury is more complicated to diagnose or may need surgery, a podiatrist will often refer you to an orthopedic surgeon. Orthopedic surgeons are holistically trained to take care of your entire body, and are experts in muscle, bone, and tendon injuries. If the pain in your foot is originating somewhere else in your body, they will be equipped to properly diagnose you and to develop a treatment plan.
Study your doctor's educational background, check their reviews, meet them and follow your gut intuition about how attentive they are to you. Get a second opinion if necessary and then make your decision. In all cases, both the orthopedic foot and ankle doctor and the podiatrist are interested in providing the best outcomes for you. You can find quality care with both an orthopedic surgeon and a podiatrist.
Learn more about the Foot and Ankle Center of Resurgens Orthopaedics.