Resurgens Wins Most Board-Certified Orthopaedic Surgeons
Four orthopaedic surgeons from Atlanta-based Resurgens Orthopaedics have successfully passed all requirements to be certified by the American Board of Orthopaedic Surgery (ABOS). Resurgens Orthopaedics has the highest number of Board-Certified orthopaedic surgeons in Georgia and is the practice with the largest number of orthopaedic physicians to achieve Board Certification in the state this year.
The newest members of the Resurgens Orthopaedics team to achieve Board Certification by the ABOS are: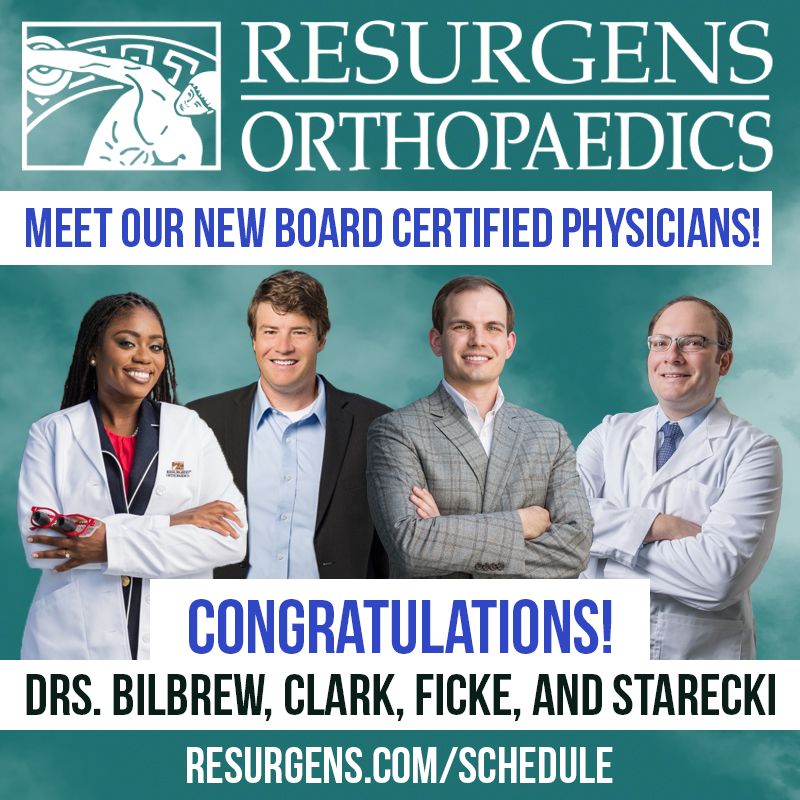 Achieving Board Certification requires successful completion of a rigorous process established by the ABOS, which includes education and practice requirements credentialing, a written examination and an oral assessment based on the physician's own cases.
"Becoming Board-Certified is a true milestone in an orthopaedic surgeon's career and establishes the doctors who achieve it as the best in our field" said Dr. Douglas Lundy, Resurgens Orthopedics co-president."We congratulate Dr. Bilbrew, Dr. Clark, Dr. Ficke and Dr. Starecki, and are proud to have them as part of the Resurgens team."
About Resurgens Orthopaedics
Resurgens Orthopaedics, one of the nation's largest orthopaedic practices, has 24 offices throughout metro Atlanta, serving the residents of Georgia, the Southeast and beyond. Resurgens Orthopaedics provides comprehensive operative and non-operative musculoskeletal care in a single practice, from injury diagnosis and treatment to rehabilitation and imaging services. With more than 100 physicians, Resurgens Orthopaedics provides specialized expertise and broad experience in the areas of sports medicine, joint replacement, neck and back surgery, foot and ankle surgery, shoulder and elbow surgery, non-operative spine care, hand surgery, arthroscopic surgery, epidural steroid injection, general orthopaedics and trauma care. www.resurgens.com
For a high res photo, please click below:
Photo
###
Contact: Jennifer Greene
Illuminate-Communications
Jennifer.greene205@gmail.com
770-361-2014