Resurgens Orthopaedics launched a new holiday initiative, "Grant-A-Gift", to help two special families experiencing challenges this year. "2020 has been an extremely difficult year for so many families. Navigating all of the fears, hardships and sacrifices that come along with a global pandemic is no easy task" said Alex Bateman, Resurgens Orthopaedics CEO. "We are honored and humbled to have the opportunity to give back this holiday. We hope Grant-A-Gift helps make this challenging season a bit brighter for two very deserving families in our community."
Resurgens launched the initiative in early December asking for the public's help to submit nominations of families in need. "The submissions really drove home how much this pandemic has affected so many in our community" said Lori Ellwood, Resurgens Spine Center Director and Grant-A-Gift Selection Committee Member. "They highlighted not only the unique challenges brought on by COVID-19, but also how the pandemic has exacerbated the ups and downs of life we all face without a pandemic such as a difficult health diagnosis."
Deliveries of holiday meal baskets and assistance to help with costs of utilities, groceries, transportation and holiday gifts were delivered to two families on December 21. "The families were at first in shock and then once they realized what was happening - and that their friend or family member had nominated them - the happy tears started to flow" said Resurgens Regional Marketing Manager and Grant-A-Gift Selection Committee Member Stephanie Pilger. "It was so special to be a part of this experience. Seeing their faces and what the gifts meant to them and their families certainly made my holiday brighter."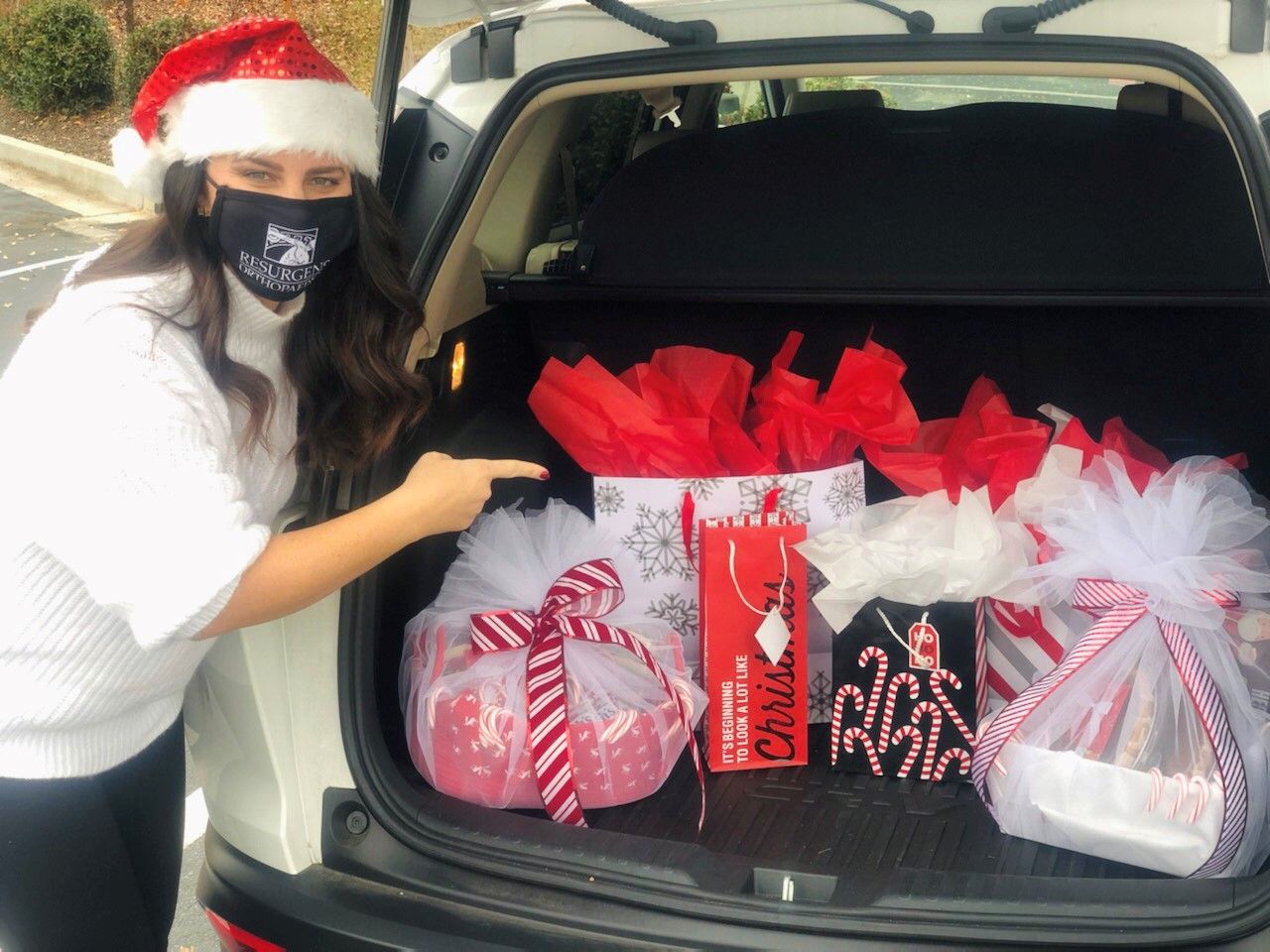 About Resurgens Orthopaedics
Resurgens Orthopaedics, one of the nation's largest orthopaedic practices, has 24 offices throughout metro Atlanta, serving the residents of Georgia, the Southeast and beyond. Resurgens Orthopaedics provides comprehensive operative and non-operative musculoskeletal care in a single practice, from injury diagnosis and treatment to rehabilitation and imaging services. With more than 100 physicians, Resurgens Orthopaedics provides specialized expertise and broad experience in the areas of sports medicine, joint replacement, neck and back surgery, foot and ankle surgery, shoulder and elbow surgery, non-operative spine care, hand surgery, arthroscopic surgery, epidural steroid injection, general orthopaedics and trauma care. (www.resurgens.com)
###
Contact:
Jennifer Greene
Illuminate-Communications
Jennifer.greene205@gmail.com
770-361-2014