Fifteen physicians from Resurgens Orthopaedics — Georgia's largest orthopaedic practice — were recently honored with prestigious awards for medical performance both locally and nationally.
Drs. Mark Albritton, Erroll J. Bailey, Tapan K. Daftari, Gary W. Stewart, Evander F. Fogle, Edward H. Holliger IV, Paul R. Jeffords, Robert A. Kelly, Scott A. Kelly, Douglas W. Lundy, Milan Patel, Yvonne E. Satterwhite and Steven B. Wertheim were named to the 2018 list of Top Doctors in Atlanta Magazine's July issue. Drs. Roderica E. Cottrell and Robert T. Greenfield were included in the prestigious physician listing by Castle Connolly healthcare research company.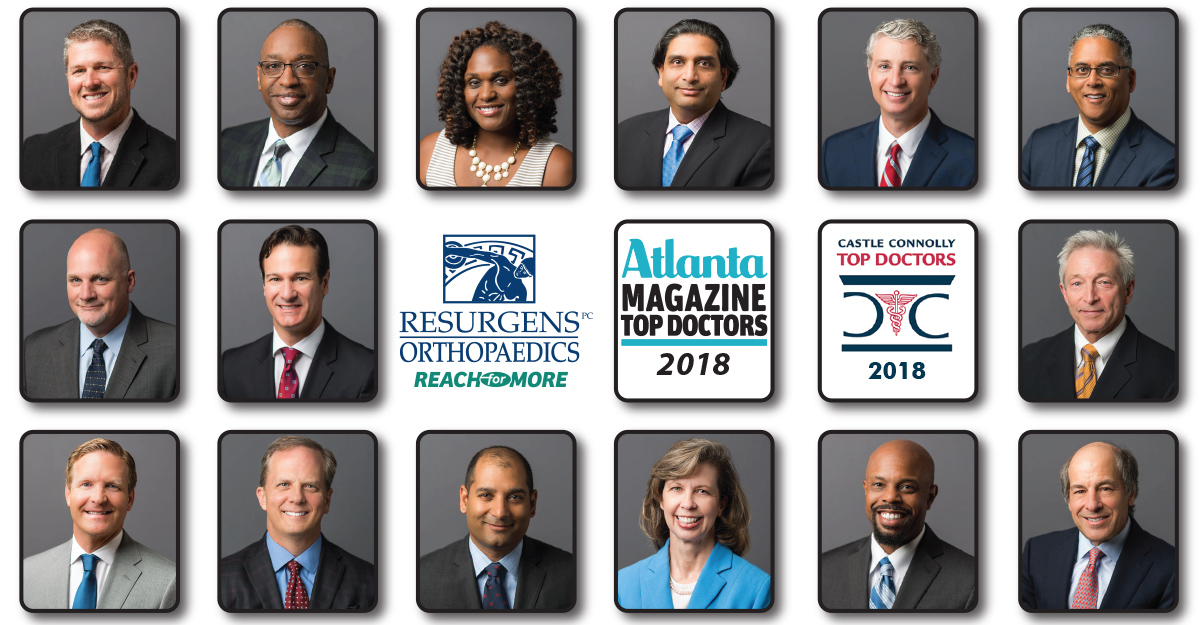 Atlanta Magazine uses a database of top doctors compiled by Castle Connolly Medical Ltd., an established healthcare research company based in New York, to assist in its annual effort. This year, the publication honored 780 physicians. Castle Connolly's physician-led team of researchers select the Top Doctors through a rigorous screening process that includes an evaluation of educational and professional experience.
Dr. John Gleason, Resurgens Orthopaedics' Co-President, said the practice is honored to have so many of its physicians recognized as Top Doctors.
"Resurgen's is extremely proud of our doctors that have been recognized by our peers as 2018 TOP DOCS," Dr. Gleason said. "Resurgens is committed to having TOP quality physicians at all 24 locations in metro Atlanta. They serve the community, helping our patients reach their goals in orthopaedic recovery which is gratifying to all those involved."
Resurgens board of directors and colleagues recognize these physicians for their continued dedication to the practice and for their superb patient care.
Resurgens Orthopaedics, one of the nation's largest orthopaedic practices, has 24 offices throughout metro Atlanta, serving the residents of Georgia, the southeast and beyond. Resurgens Orthopaedics provides comprehensive operative and non-operative musculoskeletal care in a single location, from injury diagnosis and treatment to rehabilitation and imaging services. With 102 physicians, Resurgens Orthopaedics provides specialized expertise and broad experience in the areas of sports medicine, joint replacement, neck and back surgery, foot and ankle surgery, shoulder and elbow surgery, non-operative spine care, hand surgery, arthroscopic surgery, epidural steroid injection, general orthopaedics and trauma care.
Resurgens Orthopaedics – Reach for MORE.
Learn more at www.resurgens.com.
Interviews available upon request.
Contact: Miranda Madar | Director of Marketing
404-531-8587