National Boss's Day was established in 1958 by Patricia Bays Haroski, a secretary who wanted to show her appreciation for her boss (who also happened to be her father). She chose his birthday, October 16th, to mark the occasion and since then, her idea has really caught on. Decades later, employees all over the country take this opportunity to thank their bosses for being kind and fair throughout the year. At Resurgens Orthopaedics, we love working for (and with) our two co-presidents, Dr. Douglas Lundy and Dr. John Gleason. This Boss's Day, we decided to take some time off from our usual mission of educating our readers about orthopaedic issues and providing important safety tips to let our bosses know how much we appreciate their contributions to the work we do every day!

Resurgens Orthopaedics: A Top Atlanta Workplace
Every year, the Atlanta Journal Constitution surveys employees at thousands of metro area companies asking them to rate their workplaces. The AJC identifies the top places to work in Atlanta exclusively through employee surveys. Companies are ranked in areas such as opportunities for advancement, the value of their pay and benefits, and their bosses' communication management skills. The top rated workplaces are placed on a list of the "Top Atlanta Workplaces," and we're happy to say that Resurgens is always high up on the list. In 2019, our ninth consecutive year on the list, we were rated the #7 place to work in the Atlanta area! We thank our nearly 1,000 employees for taking the time to fill out the AJC survey so we could receive this honor, and we also thank our bosses, Dr. Lundy, and Dr. Gleason, for everything they do to make the time we spend at work enjoyable.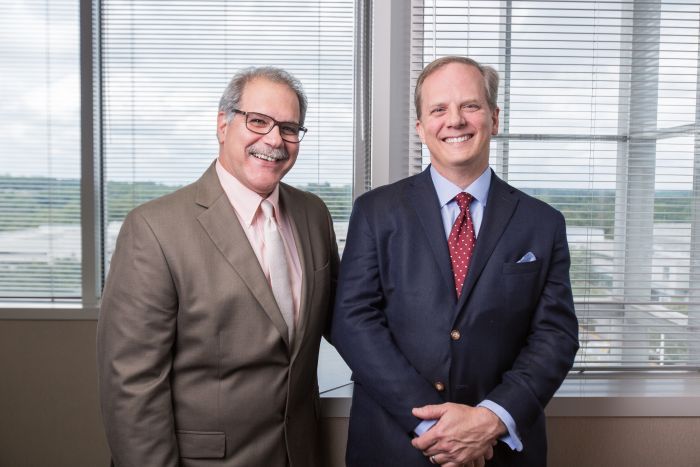 "The AJC's Top Workplace award is very meaningful to us because it recognizes exceptional cultures, based on what employees have to say about working at the company," says Dr. Lundy. "We strive to create a culture in which employees are engaged and proud of the work they do together, and we firmly believe it translates to providing exceptional care to our patients."
Dr. Lundy's sentiment is reflected in comments made by Sue Dunlap, our Director of Human Resources. Sue speaks to Resurgens employees every day about any issues or concerns they have, so she's uniquely qualified to gauge just how happy they are about their jobs and their bosses.
"Our exceptional culture is one of the reasons we are able to attract and retain top talent and we work hard to ensure Resurgens is a place our team wants to come to every day to do the best work of their lives," says Sue.
Resurgens Orthopaedics is a great place to work, and we believe that a healthy corporate culture starts at the top. Through the leadership of Dr. Lundy and Dr. Gleason, we're able to create an environment where our employees can thrive and truly love they work that they do every day. Congratulations to Dr. Lundy, Dr. Gleason, and all the employees at Resurgens' for their ninth consecutive year as a Top Atlanta Workplace! Great work, and here's to winning another one next year.