Resurgens Orthopaedics Named Top Workplace by Atlanta Journal
Resurgens Orthopaedics Remains #1 Healthcare Company and is One of Just a Handful of Companies Named to the List Ten Years in a Row
Resurgens Orthopaedics has been named a Top Atlanta Workplace for the tenth consecutive year by the Atlanta Journal-Constitution. Resurgens is ranked 8th in the entire metro Atlanta area among large workplaces (those with 500 or more employees) and is the only healthcare company in that category. Resurgens Orthopaedics is one of only a few companies to earn the Top Workplace distinction ten years in a row -- each year since the award's inception.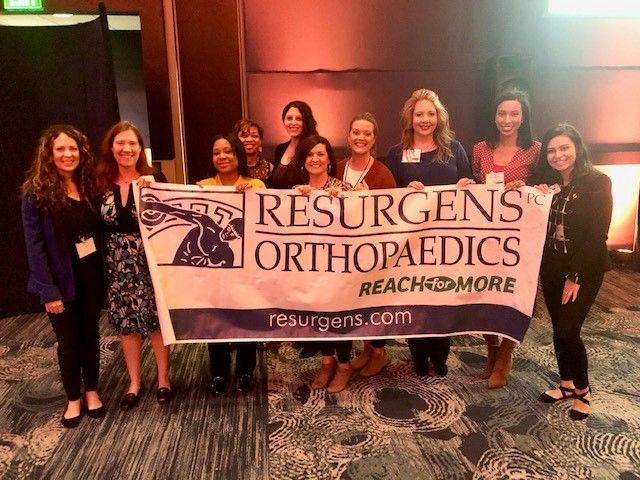 The AJC determines its Top Workplace honorees through employee surveys and this year, just 150 companies were recognized out of almost 3,000 entries.
"The AJC's Top Workplace award is very meaningful to us because it is based on what employees have to say about the company and its culture" said Dr. Douglas Lundy, Resurgens Orthopaedics co-president."To be recognized on the list 10 years in a row is quite an accomplishment.We work hard to create a positive, energizing workplace where everyone works toward the same goals and we believe that when employees are engaged and happy it is reflected in the exceptional care they give to our patients."
Almost 3,000 companies were nominated or asked to participate in the 2020 Top Workplaces process by The Atlanta Journal-Constitution and its partner, Energage. Employees across the metro area responded to print and online solicitations that began appearing in September. Using survey results, a list of 150 workplaces was compiled, consisting of 22 large companies (500 or more employees), 63 midsize companies (150-499 employees) and 65 small companies (149 or fewer employees).
About Resurgens Orthopaedics
Resurgens Orthopaedics, one of the nation's largest orthopaedic practices, has 24 offices throughout metro Atlanta, serving the residents of Georgia, the Southeast and beyond. Resurgens Orthopaedics provides comprehensive operative and non-operative musculoskeletal care in a single practice, from injury diagnosis and treatment to rehabilitation and imaging services. With more than 100 physicians, Resurgens Orthopaedics provides specialized expertise and broad experience in the areas of sports medicine, joint replacement, neck and back surgery, foot and ankle surgery, shoulder and elbow surgery, non-operative spine care, hand surgery, arthroscopic surgery, epidural steroid injection, general orthopaedics and trauma care. (www.resurgens.com)
###

Contact:
Jennifer Greene
Illuminate-Communications
Jennifer.greene205@gmail.com
770-361-2014