Thanks for printing! Don't forget to come back to Resurgens Orthopaedics for fresh articles!
Resurgens Orthopaedics in McDonough has 6 physicians specializing in all orthopaedic conditions including the spine, hip, knee, hand, wrist, elbow and shoulder. The McDonough Rehabilitation Center provides patients access to Dry Needling specialists. We continue to accept UnitedHealthcare insurance for all your orthopaedic needs. Manager: Tracy Lilly Manager's Phone Number: (678) 422-4206
Address
105 Regency Park Drive
McDonough, GA 30253
Contact Info
Phone: 770-506-4119
Fax: 770-506-4145
Hours
Mon-Fri: 8:00am - 5:00pm

Additional Centers
Additional Centers
Address
Contact Info
Hours
Rehabilitation Center
105 Regency Park Drive

McDonough, GA 30253
Phone: 770-305-7555
Fax: 770-914-4178
Mon: 8:00am - 6:00pm
Tues: 7:00am - 5:00pm
Weds, Thurs: 8:00am - 7:00pm
Fri: 7:00am - 3:30pm

Awards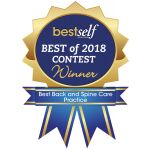 2018 Best of Back and Spine Care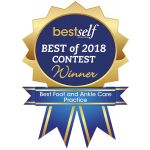 2018 Best of Foot and Ankle Care Practice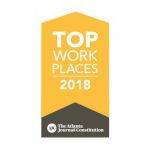 Resurgens is an AJC TOP WORK PLACE! Resurgens Orthopaedics is one of only a few companies to be recognized as a top workplace every year since the award has been offered.
Resurgens Orthopaedics
Varied
Dr. Agochukwu impressed me greatly with the way he continuously studied the MRI during the process of readying for the surgery. He thought of every way possible to leave me with the greatest range of motion possible. After removing the pressure off the nerves, He fused only two vertebrae together, then placed a rod from L-1 to L-5. He showed me the x-ray and it appears to be like bicycle chain links at each level with the rod passing through each link. The surgery was a total success.
- Joel M.
Resurgens Orthopaedics
Varied
An absolutely amazing and knowledgeable doctor. Takes the time to listen to and talk with his patients. Fully explains conditions / procedures in a manner the average person can understand, and completely answers any and all questions asked. Dr. Agochukwu made my scheduled appointments a positive experience with continued positive results.
- Gloria
Resurgens Orthopaedics
Varied
Best medical treatment I've ever received. Dr. Andrachuk and his staff are friendly, courteous, polite and kind. Very professional.
- David Drew
Resurgens Orthopaedics
Varied
All I can say is the best of the best. After having a bad experience with my previous Ortho doctor, I decided to give Dr. Andrachuk a try. Best decision I have made thus far. Very detailed and thorough and he also has a sense of humor which is needed as most patients are very nervous as I was. The staff is very knowledgeable and friendly also. I will definitely be going back.I would give him 10 stars.
- Marva Lewis
Resurgens Orthopaedics
Varied
First visit and I am sold! This visit was informative and satisfying. Dr. Cahoon was very friendly, knowledgeable of my condition and took time out to educate me on my condition, by demonstrating with the model knee in his office. He was not eager to take me under the "knife"(surgery) suggested alternative possibilities. I left the visit happy, encouraged, informed and at Peace.
- Mary
Resurgens Orthopaedics
Varied
Dr. Cahoon performed a total left hip replacement surgery on me Nov. 14, 2016 and my life is forever changed. I am no longer in pain as a matter of fact I didn't feel any pain the day after surgery because I was up and walking with a walker of course. Dr. Cahoon and the staff at Piedmont Henry made me feel so relaxed before and after my surgery. He was so kind and attentive to make sure I was ok. I would refer him to anybody that need joint replacement surgery.
- Diana
Resurgens Orthopaedics
Varied
Prior to seeing Dr. Stewart, my foot/ankle deformity caused a great deal of pain for over 6 years. Dr. Stewart went over my options, was extremely compassionate, understanding and very thorough. We made a plan that began with pre-surgery physical therapy, then surgery, now post op PT. 3 weeks ago I walked pain free for the first time in over 6 years!! My only question is why did it take me so long to find Dr. Stewart!? Best team EVER!! Thank you very much and God Bless you Dr. Stewart!!
- Diahann M.
Resurgens Orthopaedics
Varied
The doctors and PA are excellent, Dr. Gary Stewart [and] PA Rowland Spencer are the greatest. They make you feel like family concern to all your questions I highly recommend this Fayettville, Ga. location. Thank you.
- Rachel P