Thanks for printing! Don't forget to come back to Resurgens Orthopaedics for fresh articles!
Resurgens Orthopaedics in Acworth has 6 physicians specializing in all orthopaedic conditions including the spine, hip, knee, hand, wrist, elbow and shoulder. Manager: Whitney Hinds Manager's Phone Number: 678-594-6122
Address
4550 Cobb Parkway North NW
Suite 309G
Acworth, GA 30101-4313
Contact Info
Phone: (770) 491-5481
Fax: (770) 491-5482
Hours
Mon-Fri: 8:00am - 5:00pm

Resurgens Orthopaedics
Varied
I'm a 58 year old female who required surgery to repair labrum and bicep this year. I'm now 4 1/2 months post surgery and 1 month post physical therapy and am incredibly pleased with the outcome. Dr. Chen and his staff were extremely professional and caring. He took time to explain in detail the surgery and necessary follow-up. He did an excellent job and I'm very grateful!
- Terri
Resurgens Orthopaedics
Varied
Great doctor with great staff. Explained the cause of my injuries and options for treatment.
- Jason R.
Resurgens Orthopaedics
Varied
Daftari performed 2 back surgeries for me. First he went through my stomach to straighten my spine and then the next week through my back to replace L4-S1 vertebrae's and put all my hardware in. After 3 years of not being able to walk and being in the bed he saved my life! He checked on me so much in the hospital and he was so excited it was so successful. I had a high rate of being paralyzed if I did not get this surgery when I did. I wish I could somehow repay him for saving me!
- Lori
Resurgens Orthopaedics
Varied
I had been dealing with severe pain for several months and trying traditional non-invasive treatments (Chiro and PT) with very little results. In checking with coworkers in the healthcare community Dr Daftari was highly recommended. After being assessed by Dr Daftari and his team it was determined that I had a severely herniated disc which required prompt intervention to avoid nerve damage. My pain was gone as soon as I woke up from surgery! I highly recommend Dr Daftari and his team!
- Maurica
Resurgens Orthopaedics
Varied
I had a cervical issue for a number of years and it was seriously affecting my life- as a guitarist-musician, the pain and numbness was so bad in my left arm / hand, I was virtually unable to play... after Dr. Bennett Grimm gave me ACDF surgery, I'm completely back to normal. I couldn't ask for better care and expertise than Bennett Grimm. Shout out also to Emily and Chelsey too! amazing work from Resurgens Orthopaedics... you guys totally ROCK! (D.Biemiller August '18)
- Dave
Resurgens Orthopaedics
Varied
Couldn't be happier with Dr. Bennett Grimm at Resurgens! To say he helped change my life back would be an understatement. I had suffered from a ruptured L4L5 in my back for almost 4 months. I had previously been misdiagnosed with sciatica by other metro Atlanta orthopedists before I met with Dr. Grimm. The first day I limbed into Dr. Grimm's appointment he had an idea what was wrong. Being the brilliant doctor he is he was correct. Within less then two weeks he had me under getting that disc removed. Great Surgery. Great recovery. Great doctor! I highly recommend Dr. Grimm at Resurgens Orthopedics.
- Allison
Resurgens Orthopaedics
Varied
In my search I wanted to find someone not only technically qualified but one with a personality and one with whom I could build a relationship. He performed a total hip replacement on my right hip in mid-Summer 2015, my left hip in December 2017, and total replacement of my right knee in December 2017. In all my interactions with Dr. Kim and his staff they were professional and showed concern for my health and safety. I would recomment Dr. Stephen Kim for your hip/knee orthopedic needs.
- Alan
Resurgens Orthopaedics
Varied
If you are looking for the best Orthopedic Surgeon for knee or hip replacement Dr. Kim is the one! Dr. Kim replaced both of my knees, 7 years and 8 months ago and was fantastic. I had complete trust in his abilities and excellent care from him as well as Andrea and Josh. Having a good Physical Therapist is also key to and excellent recovery. All the Physical Therapist I talk to highly recommend Dr. Kim and that speaks volumes as well as a highly respected reputation!
- Susan
Resurgens Orthopaedics
Varied
Wonderful experience with Dr Levine. She was knowledgeable regarding my back problem and was confident in her treatment. My back is much better than I could have ever hoped and Dr Levine is the reason. She shows concern and care and really wants to help.
- Eric
Resurgens Orthopaedics
Varied
I recently moved to VA from GA. I tried other doctors in VA. Needless to say I am back to Dr. Levine. I have lived with back pain for over 20 years in varying degrees. She really listened to my complaints and what I wanted out of my life. She gave me the options and expected results. She doesn't give me platitudes. I can now play tennis and live my life instead of taking multiple pain pills and suffering. I wouldn't be able to fully live my life without her as my back doctor.
- Catherine
Resurgens Orthopaedics
Varied
With two boys in sports, we spend a lot of time here. We all see Dr Makhuli and he and his staff are amazing! Two surgeries, lots of broken bones, and mom with a bad knee - he handles us all with flexibility in his schedule and fantastic attitude.
- Kristy
Resurgens Orthopaedics
Varied
Dr. Makhuli has been my favorite orthopedic surgeon long before he became my doctor. He fixed my son's clavicle smashed in a skateboarding accident. When I became a patient of his I already had experiences with good orthopedic surgeons from New Jersey to Atlanta since 1985 with arthroscopic repair of torn meniscus in both knees. Dr. Makhuli was in no hurry to perform replacements and for years we worked on less drastic solutions until at the age of 61 this past January, when I had my first total.
- Robert
Resurgens Orthopaedics
Varied
Great, friendly staff. Everyone there is so helpful and caring. Dr. McQuail and his team are out of this world wonderful. So glad I ended up here for my surgery and rehab.
- Amanda G.
Resurgens Orthopaedics
Varied
The best doctor I have ever had. Doc rebuilt my ankle after basketball injury at 46 years old in 2012. Ran a half marathon 6 months after pins, plate and screws. Just recently has two meniscus tears repaired. Dr McQusil is an excellent doctor and a great person. I would not think of allowing another doctor to handle my sports injuries or any other related issues. Dr. McQusil is the best.
- Donald F.
Resurgens Orthopaedics
Varied
I've been a patient for 12 years, and have a wonderful relationship with the M.A.'s and Dr. Perez. My trust in her knowledge and experience is unwavering!. Everyone is entitled to their opinion, regarding their Dr.'s care, and this is mine!
- L. Miller
Resurgens Orthopaedics
Varied
Very professional place. They actually treat you like a human, not a dollar sign. Very glad I made the choice to see Dr. Perez and then Kenin in Physical Therapy, very nice and easy to talk to.
- Chad R.
Awards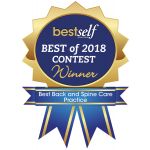 2018 Best of Back and Spine Care
2018 Best of Foot and Ankle Care Practice
Resurgens is an AJC TOP WORK PLACE! Resurgens Orthopaedics is one of only a few companies to be recognized as a top workplace every year since the award has been offered.