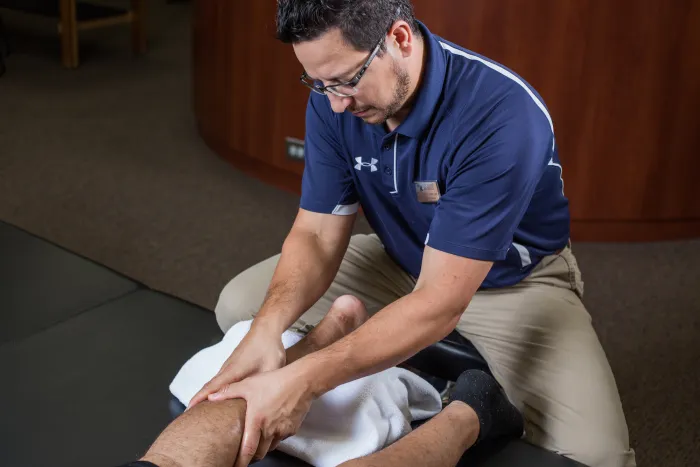 Personalized Care
The physicians of Resurgens Orthopaedics have been longstanding proponents of the value of orthopedic rehabilitation in the total care of their patients. From routine injury management and patient education, to post-operative intervention and specialized needs, Resurgens Rehabilitation Services works closely with your physician to ensure each patient receives the highest quality care. Our philosophy of care is to help each patient return to the highest functional level as quickly and safely as possible.
Hand Therapy
We recognize the specialized need for experts involving rehabilitation of the hand, wrist, elbow, and shoulder. We help improve your motor skills, activities and daily living with over a dozen certified hand therapists. Our surgeons rely on the CHTs to create custom splints as part of the rehabilitation and post-surgical recovery.
Sports Medicine
Whether you're a first-round pick or a weekend warrior, our certified athletic trainers (ATCs) are committed to your successful return to the playing field. As experts in movement, mobility, and performance assessment; we will help you gain the flexibility, strength, speed, and balance you need to reach your peak physical performance.
Spine Therapy
The McKenzie Mechanical Diagnosis and Therapy Techniques guide our certified spine therapists in the assessment and treatment methods. This reliable process is a cost and time-effective tool that leads to an efficient yet thorough treatment plan. This aids the therapists to gain an accurate understanding of the patient's condition. It also educates the patient to prevent re-occurrence and be in control of their life.
Workers Comp Rehab
Our expert therapists restore your employees to get them back to work as quickly as possible. Smooth communication between our staff and your case manager ensures timely updates on patient recovery and their return to work. We make your employees our top priority and will evaluate them within 48 hours at one of our 19 convenient metro-Atlanta rehabilitation locations.
General Orthopaedic PT
We believe exceptional care begins with a thorough exam and evaluation of your orthopaedic condition. Using your personal assessment data an individual treatment plan of care is created with your goals in mind.
Find a Rehabilitation Center near you!
Dry Needling
Dry needling can be used to treat muscles, ligaments, and tendons. It is part of the physical therapist professional scope of practice and has been recognized as being part of the legal scope of practice in the state of Georgia.
AlterG Anti-Gravity Treadmill
AlterG Anti-Gravity Treadmills enable faster rehabilitation and safer conditioning for the injured patient. Reducing gravity's effect lessens the impact on the weight-bearing joints.
Cybex
Isokinetic testing provides a solution for measuring and improving human performance. The detailed Cybex reports gives our physicians and therapists the data to measure your recovery and time frame to return to athletic activities.
Game Ready
Many of our rehabilitation locations offer Game Ready®, a cryo-therapy option with the goal to help patients recover faster and better from orthopedic surgery and injury.