Before he found out about Operation Walk and Resurgens Orthopaedics, Frank Cowan thought he would be living with severe hip pain for the rest of his life. When he was selected to receive his total hip replacement completely free of charge, it gave him a new outlook on life. Now, at age 40, he's feeling better than he has in years and his new hip is giving him the opportunity to pursue his dreams without the burden of pain and limited mobility.

Frank's difficulties began in 2011 as he was traveling to work like he had so many times before. This day would prove to be different than the rest, and it changed his life forever. As Frank was driving, he suddenly lost control of his vehicle. He ended up leaving the road, where he collided head-on with a tree. The accident drove his leg back into his hip socket, dislocating it and shattering his pelvis. Although the impact was severe, Frank remained conscious the entire time; he even stepped out of his vehicle to inspect the damage.

"I was in shock, for certain… I got out of the truck to assess the situation and as soon as I put both feet on the ground, I landed on the ground because that hip just wasn't supporting me anymore," he says.
Realizing the severity of his injuries, he quickly called 911. As he waited for the ambulance to arrive, his mind raced.
"I was glad to be alive but I was hoping my injuries weren't as bad as they turned out to be," says Frank.
When paramedics arrived, they rushed him to a nearby hospital where he received some bad news. His pelvis was shattered and he would need a hip replacement within the next 8 years if he hoped to maintain any kind of mobility. Without a good health insurance plan, Frank knew he wouldn't be able to afford the operation. Although his doctors did everything they could to provide short-term treatments without a total hip replacement, they told Frank he would eventually be left unable to walk without severe pain.
For the next 8 years, Frank was forced to deal with his pain and limited mobility; without the means to afford his hip replacement surgery, his condition continued to worsen. Early on, he was able to continue working as a groundskeeper but eventually the demands of a regular job became too much for him to bear with his constant hip pain. Never one to lay around, Frank and his wife began making money recycling pallets and crates, although he knew it wouldn't be a permanent solution unless he could get the hip replacement surgery he so desperately needed. He had almost lost hope when he saw a fateful TV commercial in the summer of 2019 that would give him a path forward.
"I saw a commercial on TV that mentioned Operation Walk… I sent them my information and was, quite frankly, surprised a couple months later when I got the call from them."
After nearly a decade of constant pain, Frank's relief was immeasurable.
"They told me they wanted to bring me in and take a look at my hip, and that everything would be covered through Operation Walk. To be honest, at 40 years old, I hung up the phone and cried that day. It was like a miracle to me," he says, his voice shaking.
In the lead up to his first consultation at Resurgens Orthopaedics in Roswell, Frank says he felt like it wasn't real. Dr. Dale Lane put his concerns at ease and gave him some recommendations to prepare him for surgery. Frank began working hard on a program of diet and exercise that would give him the best possible chance of a successful hip replacement. He even lost more than 20 pounds!
Frank says the surgery itself was "a breeze." Upon waking up, he felt better immediately.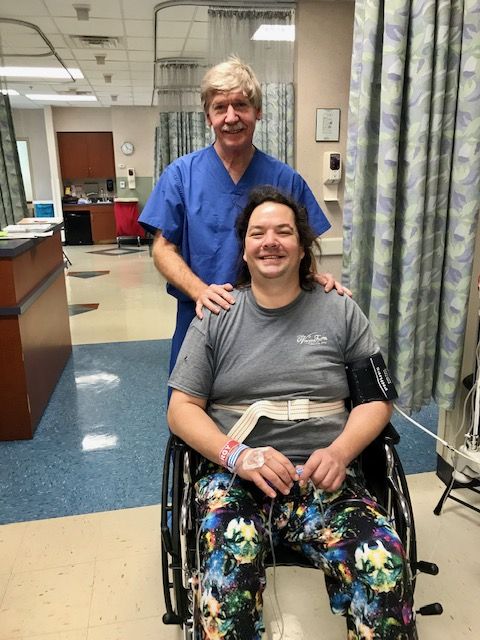 "I hadn't been able to put my foot straight in years," he says, "Just to be able to stand with both feet pointing in the same direction was awesome."
At the time of this writing, Frank is only two weeks into his recovery but he says it's going well and he's committed to doing everything necessary to get back on his feet. For the next 6-12 months, he'll be focusing on his physical therapy and following all of Dr. Lane's recommendations. He's confident that, with the support of the staff at Resurgens Orthopaedics, he'll make a full recovery. When he's ready to get back to work, he hopes to turn his recycling operation into a business that he and his wife can work on together. He'd also like to save up some money to buy land in the woods and build a house. An avid hiker and animal lover, he's eager to get back in the forest and spend some time with nature.
"Just to be able to spend the day walking through the woods without a whole pile of pain would be a miracle to me right now," says Frank.
Frank is so grateful to Operation Walk and to the staff at Resurgens for making his recovery possible.
"I would recommend Resurgens to anybody that needs a major operation like this. The entire staff has been incredibly positive, helpful, and friendly. I'm extremely happy with Resurgens and the work that has been done. I can't say enough good things about Resurgens."
From December 2-7, 2019, Operation Walk was able to provide free knee or hip replacement surgeries to about 60 patients thanks to the generosity of 35 volunteer surgeons working at 23 different hospitals. At Resurgens Orthopaedics, we're proud to be a part of this wonderful program and that we could help Frank get back on his feet at no cost to him. We wish him luck with his recovery and with achieving all his goals in the future.