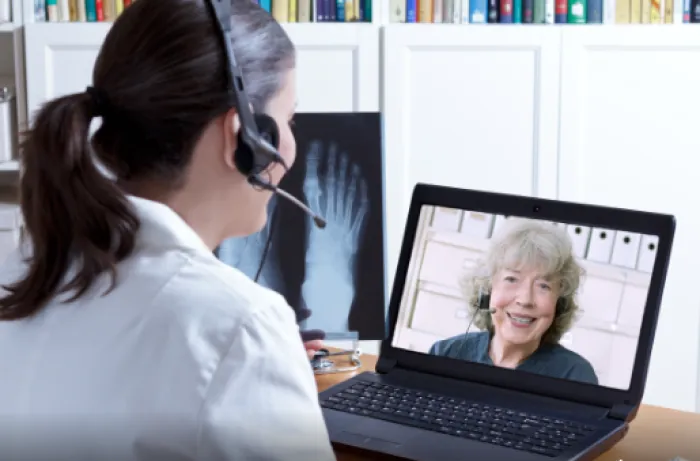 TeleHealth visits are virtual visits that you can schedule with your preferred Resurgens provider using your computer, laptop, tablet or smartphone, from the comfort, privacy, and safety of your own home. You and your provider will be able to have a private video conference allowing you to review your symptoms, go over your imaging studies and other tests, and discuss a treatment plan for your specific condition.
TeleHealth visits are covered by insurance, and during the COVID-19 pandemic, co-pays are being waived. ExamMed is a company that provides a technology used by Resurgens to conduct these TeleHealth virtual visits.
TeleHealth visits require the following:

Desktop computer, laptop, tablet or smartphone with a camera and microphone.
Good Internet connection
Email address to receive the appointment confirmation and link to fill out paperwork
Instructions for TeleHealth visits with ExamMed are below
1. To schedule a TeleHealth appointment with your Resurgens provider, please call the office that you would call for an appointment with the provider you wish to see.The schedulers or clinical staff will discuss with you the dates and times available for your provider and schedule your appointment.
2. For TeleHealth appointments Once the scheduler has made your appointment, you will receive emails from two sources:
Radix Health (Technology used by Resurgens for appointment scheduling)
ExamMed (Technology used by Resurgens for TeleHealth visits
3.

You will receive an email from Radix confirming your appointment. Click the "Yes, I'll be there!" button to confirm.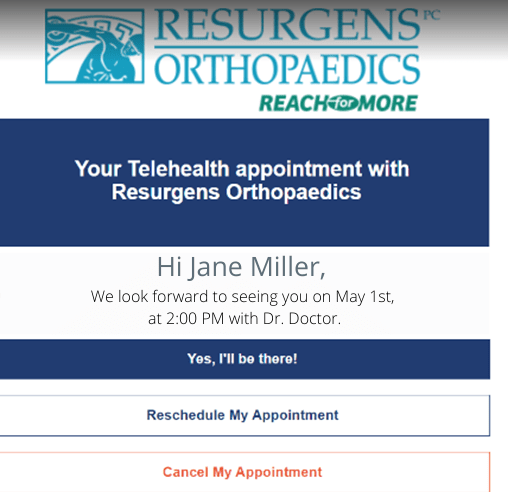 4. You will receive reminder emails each day from Radix starting 4 days prior to your appointment and the day of your appointment.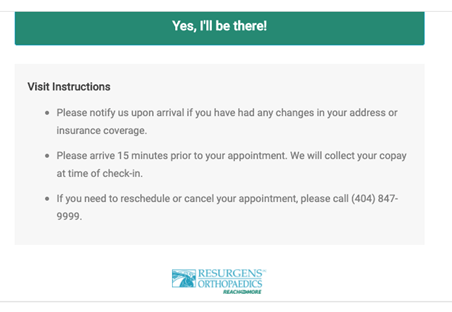 5. In addition to the appointment reminder emails, one day prior, and on the day of your visit you will also receive a "Time to Check In" email from Radix. Click the "Check-In"button.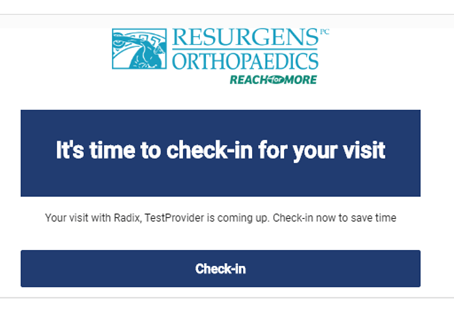 6. When you click the "Check-In" button in the email from Radix you will be taken to a webpage where you will fill out the necessary forms for your appointment (insurance, medical history, etc.)
7. You will also receive an email from ExamMed confirming that you have been scheduled.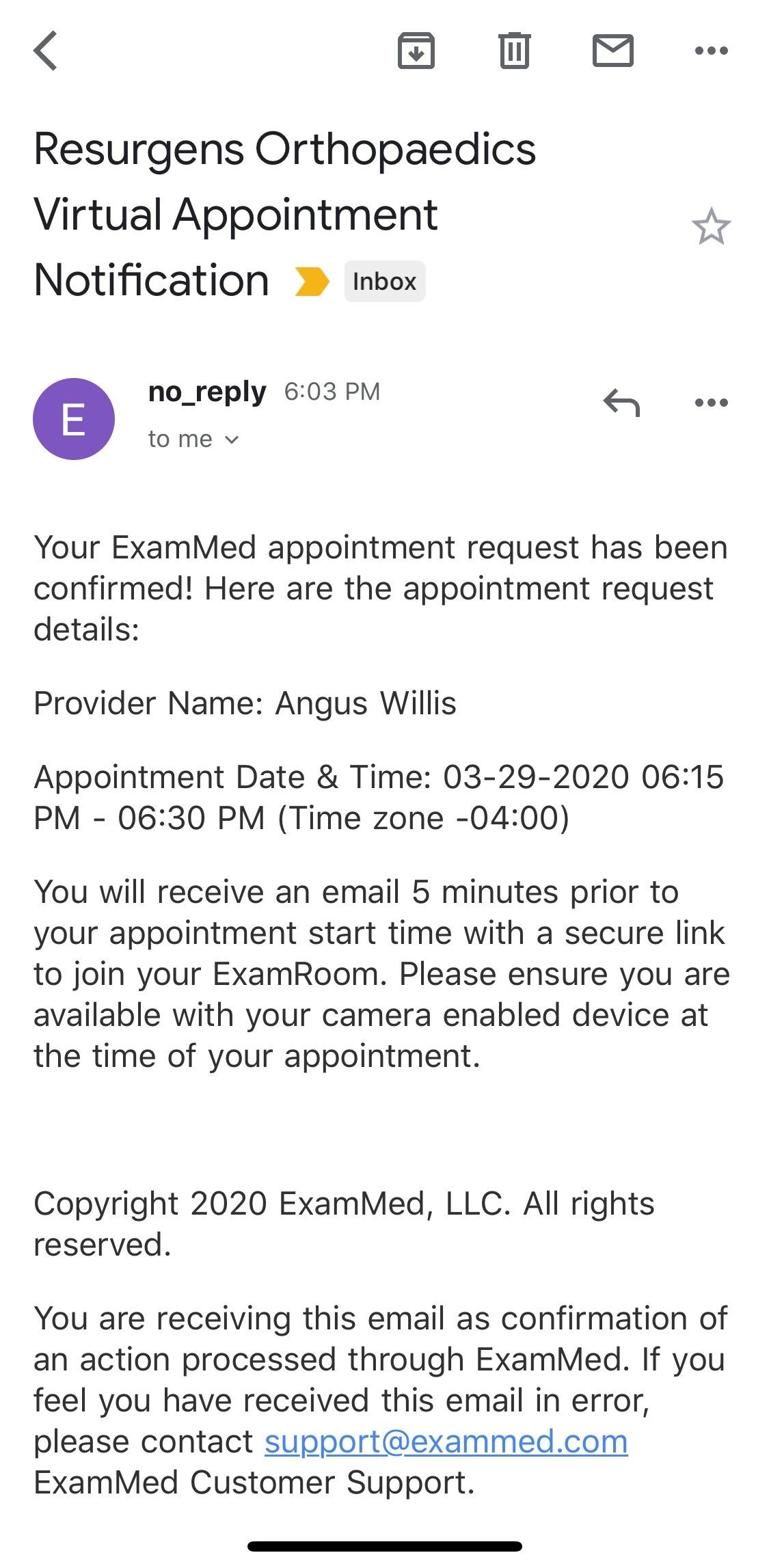 8. On the date of your virtual visit, you will receive an email from ExamMed five minutes prior to your scheduled appointment with a "Join Now" button. Clicking this button will allow you to "enter" your virtual "ExamRoom".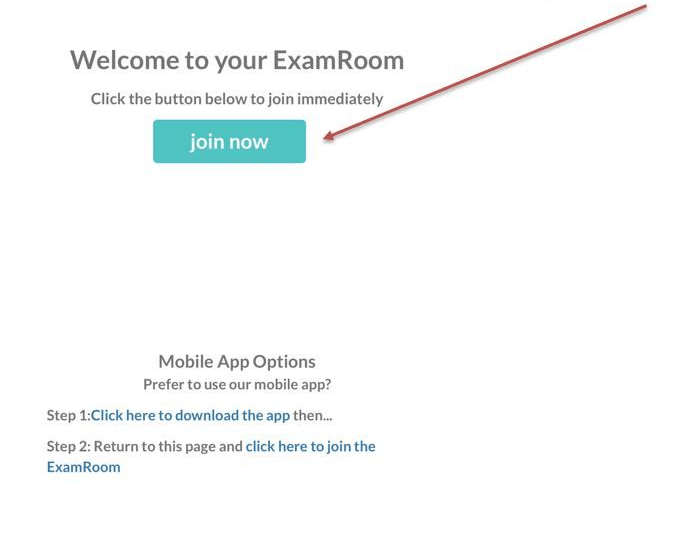 9. Once you click the Virtual ExamRoom Link, it will take you to a screen asking you to use the Browser mode to use ExamMed or to download an ExamMed app. If you are using an iPad or iPhone, you must choose Safari as your browser.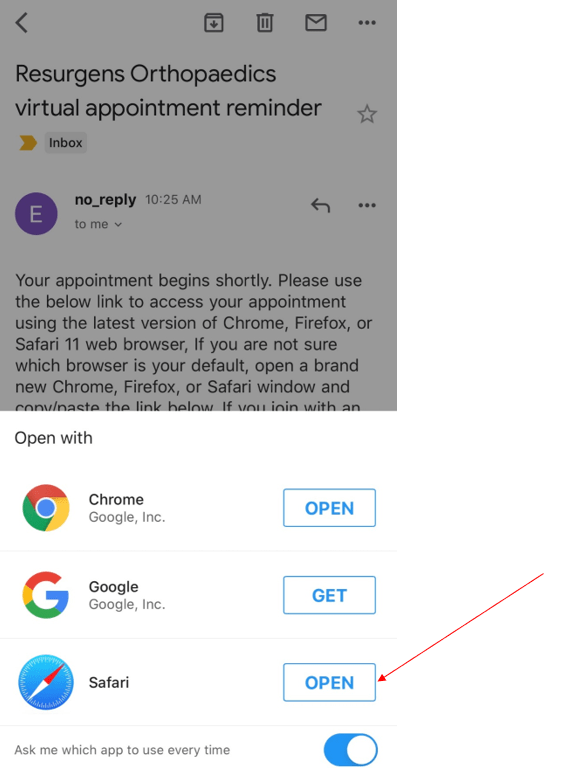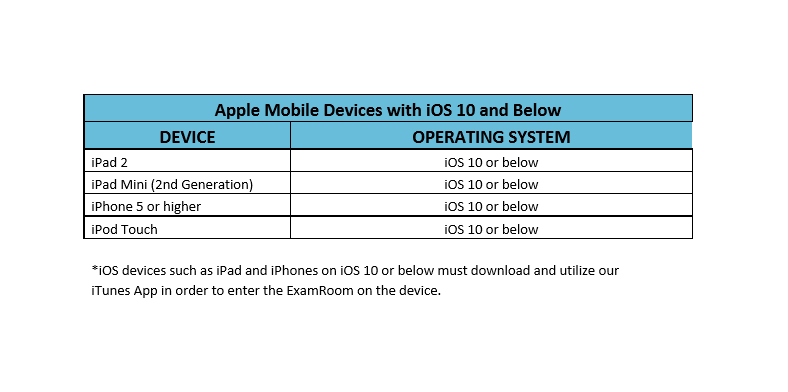 If you are using an Android tablet or mobile device you must choose Chrome. For full technical requirement, please click here.
10. If for some reason your browser settings on your phone or tablet are preventing the audio-video, then download the ExamMed app from the Apple App Store or Google Play as an alternative option.
11. If you are using your computer (laptop or desktop), when you receive the email from ExamMed five minutes prior to your scheduled appointment with a "Virtual ExamRoom Link" allowing you to "Join" the virtual "ExamRoom" it will not give you the option of downloading an app.
12. Once you choose the Browser mode you must permit ExamMed to access your microphone and camera. One you click "Allow" it will automatically take you into your virtual "ExamRoom". Your face should show up in the small box at the top right of the screen.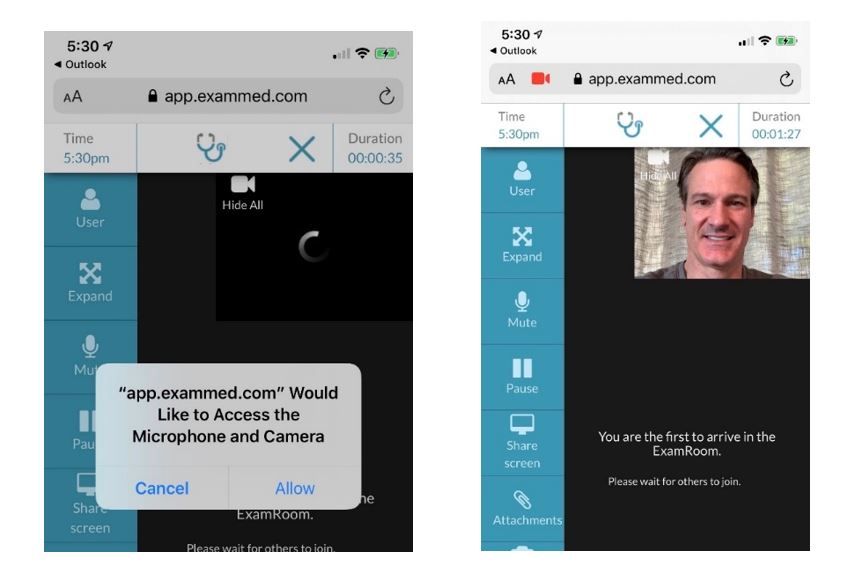 13. Once someone "joins" the ExamRoom, you will see them in the large screen in the middle.Your provider's medical assistant may "join" the room first to make sure that everything is working and to ask questions, get updates on your condition and treatments.
14. Your provider will join the room for your interaction. During the visit, your provider may ask you to perform some basic examinations like standing, walking, moving your arms and legs in certain positions, etc. Your provider may also screen-share to go over x-rays and MRIs or show you your images in some other way. Once you have reviewed the treatment plan and your questions have been answered, the provider will end the visit.
15. Once the visit has been ended by the provider, you will get an Appointment finished notification.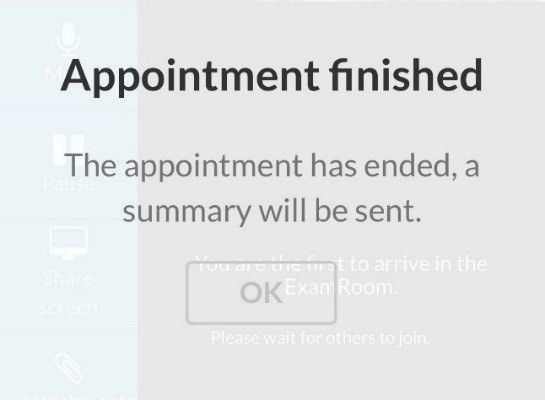 16. Finally, once you click, "OK" it will take you to the ExamMed login page. You do not need to do anything with that page and you can close that page in your browser.