NON-SURGICAL SPINE TREATMENT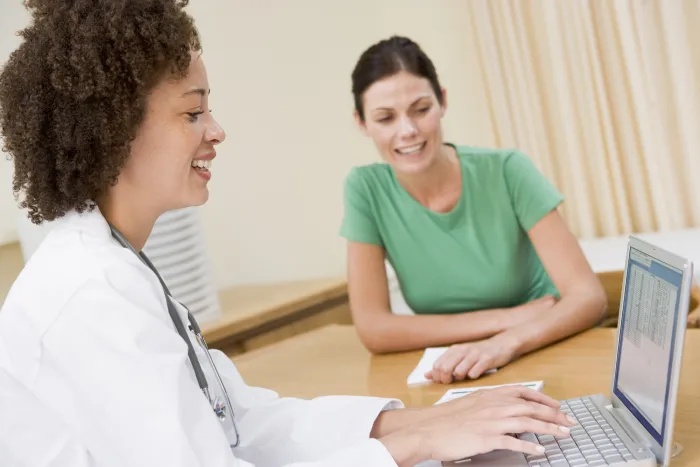 Physiatry
Resurgens Spine Center's board-certified Physiatrists ("Fizz-eye-a-trists") are medical doctors that specialize in the non-surgical treatment of spine disorders. Our Physiatrists strive to provide patients with an accurate diagnosis and comprehensive care for their condition, focusing on patient education and non-surgical rehabilitation.
Non-Invasive Spine Options
The initial phase of non-surgical treatment of spine disorders typically involves non-invasive treatments including medications, ice and heat, and rehabilitation exercises that are specific to your spinal condition, often directed by our team of certified physical therapists at Resurgens Spine Rehabilitation. Our expert physical therapists work directly with your physician to improve, restore, or maintain physical strength and function resulting from your spinal condition or following surgery. When appropriate, physiatrists perform diagnostic nerve studies called EMGs.
Spine Diagnosis
The first step in formulating a treatment plan is to make an accurate diagnosis of the condition causing your symptoms. Our physiatrists perform a thorough evaluation, reviewing your history, physical examination and diagnostic imaging studies in detail to prescribe a treatment plan that is individualized for your individual symptoms. Imaging studies often include x-rays which show the bones and allow our physicians to evaluate your overall spinal alignment and look for conditions such as disc degeneration and arthritis. X-rays do not show soft-tissue such as disc herniations or pinched nerves. Diagnosing these conditions requires a special imaging study called an MRI which can be performed at one of our Resurgens MRI facilities.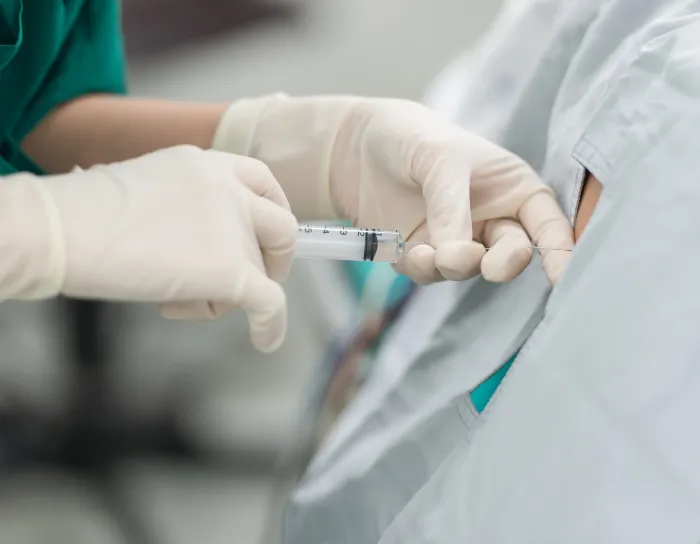 Spine Injections
When symptoms do not improve with non-invasive treatments, interventional spinal injections may be offered. These may include epidural steroid injections, facet joint injections and sacroiliac injections. Spinal injections are performed by our physiatrists in our outpatient Surgery Centers using fluoroscopy (x-ray guidance) to ensure proper placement of the needle so the medication is delivered to the appropriate place. In some cases, spinal injections can provide long-term pain relief and help you avoid the need for surgical treatment.

Interventional spine injections are performed to provide pain relief or diagnostic information by injecting steroid medication and anesthetic into a joint or an area surrounding your spinal nerves. The injections are performed under fluoroscopy (x-ray guidance) to ensure proper placement of the needle so the medication is delivered in the appropriate place. There are several types of spinal injections including epidural steroid injections, facet injections and sacroiliac (SI) joint injections. Read more about non-surgical spine procedures and non-surgical neck procedures in our patient education center.

Spine Therapy
The physicians of Resurgens Spine Center utilize therapists with advanced training and expertise in spine rehabilitation. Our staff consists of some of the most well respected spine therapists in Georgia. With the patient as an active participant, the therapists work closely with our spine physicians to ensure that each patient receives personalized, one-on-one care and is returned to the highest level of function and pain relief possible. Our spine therapists conduct an extensive patient evaluation and work closely with the patient to set treatment goals and create an individualized therapy program.
Take charge of your health today