Resurgens Orthopaedics continues to actively monitor the COVID-19 pandemic, and our top priority is the health and safety of our patients and staff. We continue to adhere to the CDC and Georgia Department of Public Health's safety guidelines to help prevent exposure and spread of COVID-19.
The following patient policies are currently in effect in our offices:
Patients will be limited to one individual guest and they must be necessary for assistance during the office visit.

Guests that are non-essential for the office visit will be asked to wait outside of the Resurgens office.
In addition, if you have any of these symptoms of COVID-19, please contact us to reschedule your upcoming appointment or surgery.
Fever (temperature above 100.4)

Cough

Shortness of breath or difficulty breathing

Chills or repeated shaking with chills

Muscle pain

Headache

Sore throat

New loss of taste or smell

Fatigue

Congestion or runny nose

Nausea or vomiting

Diarrhea
If you believe you have been exposed to COVID-19, the CDC recommends you contact your primary health care provider.
Most importantly, please protect yourself by washing your hands frequently with soap and water, covering your mouth when coughing or sneezing, and avoiding close contact with anyone who has a fever or cough.
We thank you for your trust in Resurgens Orthopaedics for your musculoskeletal care. Our physicians and staff are dedicated to providing the best-in-class care in the communities that we serve.
Schedule an appointment online at one of our 24 convenient locations.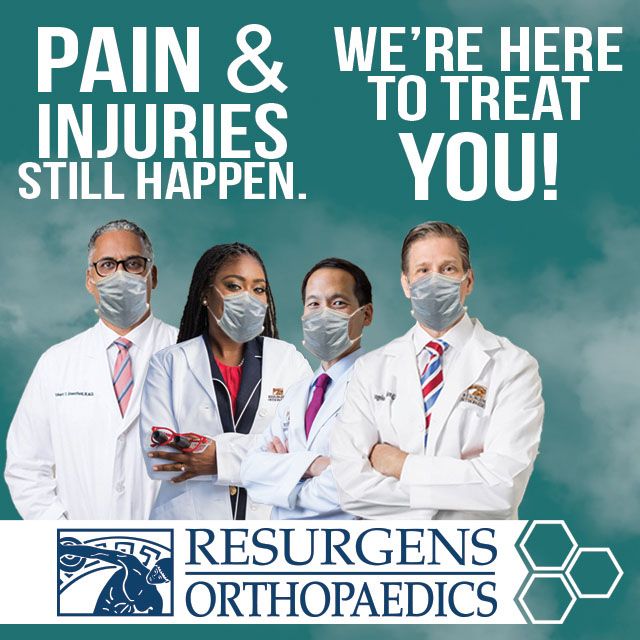 The world has changed, but our dedication to patient care has not.
Schedule an appointment online at one of our 24 convenient locations.