Resurgens Orthopaedics continues to see patients for all orthopaedic conditions and treatments while adhering to the CDC and Georgia Department of Public Health guidelines to help prevent exposure and spread of the COVID-19 virus. Our Board of Directors continues to actively monitor the COVID-19 pandemic in Georgia and our top priority is the health and safety of our patients and employees.
Resurgens Orthopaedics recognizes the crucial need for us all to do our part to slow the spread of COVID-19. With the newest guidance from the CDC, we understand that many businesses are no longer requiring masks. However, as a medical practice, Resurgens is expressly excluded from these new guidelines and our mask policy must remain in effect.
Resurgens Orthopaedics Continued Safety Guidelines to Prevent the Spread of COVID-19:
Enhanced sanitization protocols

Socially distant appointments and waiting rooms
All staff, patients and guests are required to wear face coverings until further notice

The following patient policies are currently in effect:
Face masks or coverings are required to be worn by all patients and guests in our offices. If you do not bring one, it will be provided for you. Face masks with exhalation vents are not permitted in our offices as they do not adequately protect the safety of others.

Bandannas are not permitted to be worn by patients, guests or staff as they have been shown to provide inadequate protection against the spread of COVID-19


Patients will be limited to one individual guest and they must be necessary for assistance during the office visit.

Guests that are non-essential for the office visit will be asked to wait outside of the Resurgens office.

Until further notice, to help decrease the spread of COVID-19 and practice social distancing, we recommend children not attend the parent's appointment.
In addition, if you have any of these symptoms of COVID-19, please contact us to reschedule your upcoming appointment or surgery.
Fever (temperature above 100.4)

Cough

Shortness of breath or difficulty breathing

Chills or repeated shaking with chills

Muscle pain

Headache

Sore throat

New loss of taste or smell

Fatigue

Congestion or runny nose

Nausea or vomiting

Diarrhea

If you believe you have been exposed to COVID-19, the CDC recommends you contact your primary health care provider.
Most importantly, please protect yourself by washing your hands frequently with soap and water, covering your mouth when coughing or sneezing, and avoiding close contact with anyone who has a fever or cough.
Resurgens Orthopedics has been part of the Atlanta community for more than 30 years, and we are grateful for the understanding of our patients and guests as we strive to provide outstanding orthopaedic care to you and your family, while continuing to help do our part to slow the spread of COVID-19 in Georgia. We support our hospital partners who are on the front lines of this global pandemic. We are all in this together and together we will provide a safe environment for all your orthopaedic needs.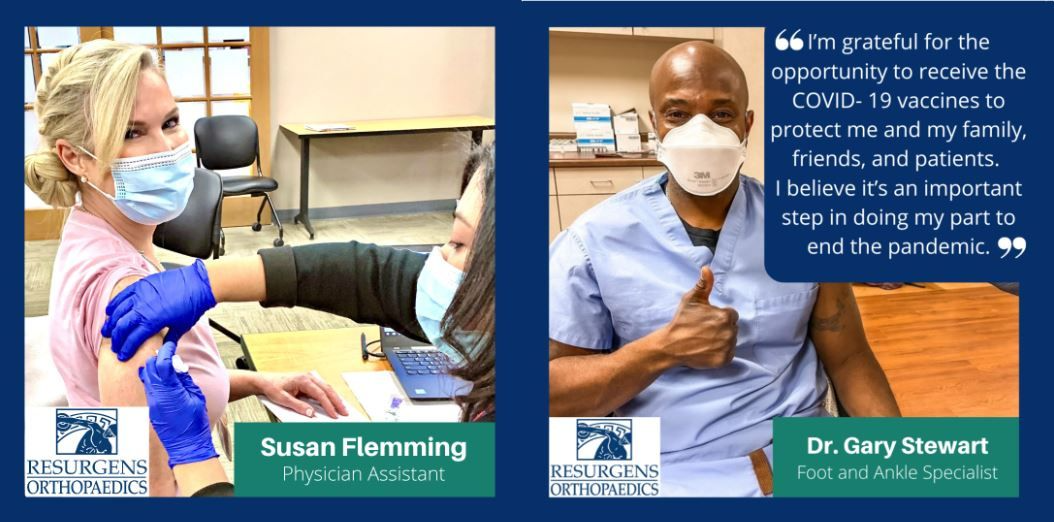 Your best protection from COVID-19 will be a combination of getting a COVID-19 vaccine, wearing a mask when necessary, social distancing, and washing your hands often. No one tool alone is going to stop the pandemic. We must all do our part to help stop the spread. Even if you have trouble getting a vaccine appointment, don't give up! Find your nearest vaccine location here: https://dph.georgia.gov/locations/covid-vaccination-site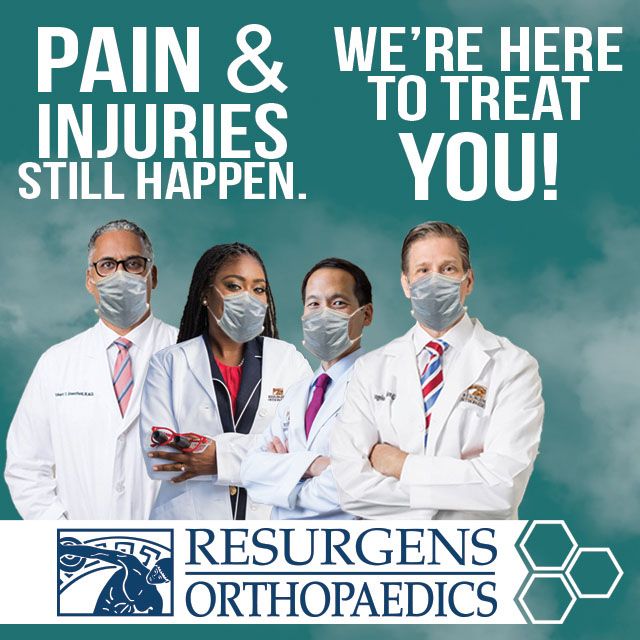 The world has changed, but our dedication to patient care has not.
Schedule an appointment online at one of our 24 convenient locations.
For additional information about COVID-19, please read the up-to-date news from the CDC below.